The Presentator
applied for patent
We proudly present our sample show system "Presentator".
This machine shows textile fabrics, photos – patchworks or in full width. The ideal item to use on fairs, in showrooms, entrance halls or on other events. It can store a number of different articles, depending on its size and on your needs. We can modify and adjust it to your demand.
This model can store 12 different fabric samples – the sequence can be programmed. In addition 7 different flyers are presented. The system is illuminated and can be moved easily on rolls.
This demonstrating device is designed to show fabrics of a final width of 1400 mm. If articles of wider width have to be shown, the machine can easily be adapted. If the quantity of samples has to be increased, there is no problem due to the concept of the system.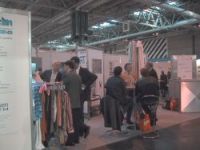 the following link shows the machine in action.
www.classen-tm.com/MVI_4653.AVI